Getting to know those
YOU

support!

Romain Evariste Kyelem is from Yaounde, Cameroon. Romain tells us that his desire for mission and devotion to the Sacred Heart, as well as its community lifestyle, attracted him to the Missionaries of the Sacred Heart. During his free time, Romain likes to keep current with political debates and global affairs. Other hobbies of his include listening to classical music and going to the cinema. He is currently in his second year of Theology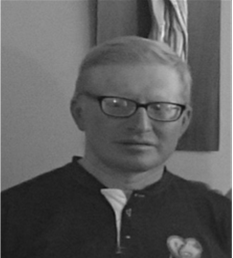 Gabriel Enrique Pena is from Arenilla, Ecuador. Gabriel tells us that what attracted him to the Missionaries of the Sacred Heart is the work that they do with people, the missions, spiritual accompaniment, and communicating the message of the Gospel. In his free time, Gabriel enjoys expanding his knowledge of Theology in order to better respond to God's call through the Church. He is currently in his fifth year of Theology.
Please keep Romain and Gabriel, as well as all our scholarship recipients in your prayers as they continue in their studies.Thank you for all your support. It is through your donations that we are able to provide the financial support they need.